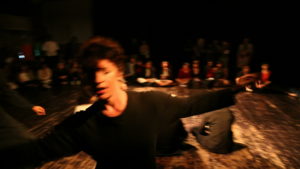 alexx makes dances premieres
RAGE WALK RISE
in an evening of convulsive-experimental performance featuring transformations by NoodleRice & Friends, alexx makes dances | Alexx Shilling and Maria Garcia (with dance by Samantha Mohr, and cinematography by Wes Cardino)
Friday + Saturday, April 28 + 29 @ 8.30pm
$20 general admission / $15 members, students, seniors
Buy Tickets!

In NoodleRice & Friends "Untitled Act II," beautiful large bubbles float over the stage to create a mysteriously theatrical world, in which otherworldly characters play out a series of compelling and surreal scenarios. In this inventive performance and sculptural collaboration by artist/designer Yao Zhang and Liang Guo of NoodleRice & Friends, a collage of theatrical phrases depicts the character transformations in identity/gender/species.
NoodleRice & Friends is a collective working at the intersection of film/video and live performance, first conceived as a film studio by Yao Zhang and Liang Guo in 2008 when they were both at the Beijing Film Academy. They expanded their work into performance art and theater during their MFA years at California Institute of the Arts.
In comparison of creating works that belongs to "theater" or "performance art", NoodleRice likes to think they are creating contemporary art work, in which performance is part of the media. NoodleRice's work has been selected and shown internationally and nationally in the US and Europe, including: Watermill Center(under the artistic directing of Robert Wilson), Rabbithole as part of EOarts Performance Series 2016 in New York, Bunker Project as part of the PAF (Performance Art Festival) 2016 in Pittsburgh, Redcat (Studio and NOW festival), Automata and Tongva Park in Los Angeles. NoodleRice's work has also been selected into ManPower Art Festival in Lisbon Portagul , /re.si.lien.ce/Performing Art 3 Days in Florence Italy, the second Tier of Sundance Institute New Frontier Story Lab, and they were a finalist at the Rapid Pulse International Performance Art Festival. http://cargocollective.com/noodlerice
–
Alexx Shilling's "Rage Walk Rise" –
a weather system, an alternate universe, right here
Powered by forward momentum, this practice-turned-performance for three dancers invites the multiplicity of the feminine to be visible in wildness and in formality, Rage and all.
walking is dancing is walking
In Los Angeles, the stage becomes our safe space to walk to our hearts and bodies' content, remembering the places our legs have taken us and our ancestors.
Performed by: Alison D'Amato, Alexx Shilling and Devika Wickremesinghe
Alexx Shilling is fully committed to the infinite investigation of movement and its potential to uncover alternative narratives and allow us to remember. Her original choreography and experimental films have been presented nationally and internationally, through residencies at the Millay Colony and Ebenbökhaus / Jewish Museum in Munich, and with generous support from institutions including Dance Films Association, CCI, Lower Manhattan Cultural Council and CHIME both as Artistic Director of alexx makes dances and ann and alexx make dances (with Ann Robideaux).
Since relocating to Los Angeles in 2010, she has created projects in museum spaces, warehouse lofts, city parks, alleyways, bathrooms, private houses, artistic and academic institutions, adapting and transposing dances for unique encounters with audiences.
Shilling's interdisciplinary research follows three unique strands: site-located performances that question the potential for transformation, the intersection between the fleeting immediacy of live dance and the preservation of still and moving images on film, and works that steal from artistic heroes as a way of paying tribute while simultaneously constructing new paradigms.
As a performer, she currently collaborates with Victoria Marks (since 2010), Richard Rivera/Physual (New York, Company Member 2003 – 2010) and Ros Warby. She received her M.F.A. in dance from UCLA's Department of World Arts & Culture/Dance and an undergraduate degree in Dance from Skidmore College. She has taught at the American Dance Festival, UCLA, the Wooden Floor and at New York's Peridance Center, among others. Currently, she is the Pilates Specialist at Loyola Marymount University's Dance Department.
Along with Devika Wickremesinghe, Shilling co-curates the series Hi, Solo. During her 11 years in New York, she founded and co-curated the popular BODY BLEND series at Dixon Place with Sara Juli, founded and directed RADIANT PILATES and the RADIANT MOVEMENT STUDIOS in New York City. She continues to work with long-time New York-based collaborators Janusz Jaworski, Ann Robideaux, and Mimi Yin.
–
Maria Garcia's "Impart— Scenes of Abjection" is a series of absurd images and reflections of the demonization of the immigrant, female sexuality, and death. At an URGENT time of HOT war, and a global migration crisis many political bodies are showing their backs to the repugnant realities of execution, and blaming the ritual of crossing borders instead. The migrant is regularly demonized in daily political theatre. DNA tests requiring the drawing of blood are being floated as extreme vetting measures designed to deter the other, and rip the mother from her child. This has happened before and before. In 1968 the British Conservative Member of Parliament Enoch Powell delivered his infamous Rivers of Blood speech in which he declared Commonwealth immigration and anti-discrimination legislation madness: "Those whom the gods wish to destroy, they first make mad. We must be mad, literally mad, as a nation to be permitting the annual inflow of some 50,000 dependants, who are for the most part the material of the future growth of the immigrant-descended population. It is like watching a nation busily engaged in heaping up its own funeral pyre." Powell's demagogic display led to his dismissal from the shadow cabinet. MADNESS!!!!!! "Impart" is an ongoing investigation, presented by a former Miss USA contestant called MedUSA, a Cardinal, a Nun, a Plague Doctor and their dancing, 80's electric guitar playing, film(ing), and other slapstick idiocy(ing).
Concept, Performance Maker: Maria Garcia
Maria Garcia is a costume designer and performance artist. She has a BA in Theatre Studies from London Metropolitan University in the UK, and studied at FIDM in Los Angeles. She's designed for Theatre of the Oppressed and other Forum theatre companies like Cardboard Citizens, Streetwise Opera and Facefront Theater in the UK. Maria's costume and performance 'play' is resourceful, inventive and informed by her site-specific, and devised work with Cardboard Citizens, and London School of Samba. Her interdisciplinary investigations often center around migration, 'liveness' and womanism and feature kinetic/alive costumes, projection, noise, and movement. Other collaborators in the UK include: English Touring Opera, English National Ballet and Birmingham Opera Company. While in the UK Maria collaborated with Evening Standard Theatre Awards 2009 Best Design award winner theatre designer and performance maker Mamoru Iriguchi on several works including Into the Skirt, which premiered at Mousonturm's Plateaux Festival (commission) in Frankfurt Germany and One Man Show, Place Prize commission in London UK. Maria has worked in the U.S. since 2014 where she has designed and constructed costumes for Laurel Jenkins (Image Action Text and Soma Path), Chankethya Chey (My Mother and I and Soma Path) and Lionel Popkin who's Inflatable Trio premieres at the Skirball on February 23-25, 2017. Her first performance work Moon River which she co-created with Portuguese Artist Catarina Moreno has been shown at the Green Room in Manchester, UK, Cockpit Theatre, London UK, Pieter Performance Space, and Son of Semele in Los Angeles. Impart—Scenes of Abjection is the follow up to that piece. You can view more of Maria's work here: www.garcialivecostumeart.com
Choreographed and Performed by Samantha Mohr
Native to Southern California, Samantha Mohr holds a BA in World Arts and Cultures/Dance from the University of California, Los Angeles. She has since collaborated as a performer with Lionel Popkin, David Roussève, Victoria Marks, Julien Prévieux, Elizabeth Leister, Rebecca Bruno, Laurel Jenkins, Alexx Shilling, and Monica Duncan. Samantha has performed and presented shared works through homeLA/Frogtown in partnership with The Women's Center for Creative Work, at the Los Angeles Municipal Art Gallery, LACE Gallery, the Hammer Museum, and Highways Performance Space. In addition to dancing, she is currently pursuing her 200 hour registered yoga teacher certification with Farzaneh Noori, Hanna Gilan and Allison Linamen.
Cinematographer: Wes Cardino
Wes is a bi-coastal Cinematographer.  After studying cinematography at the American Film Institute, Wes's thesis film "The Escape" won the Heritage Award for Outstanding Achievement in Cinematography – Honorable Mention at the 25th ASC Awards.  He recently premiered a feature at the 2016 Florida Film Festival as well as the 2016 Nashville Film Festival, and has had films shown at Sundance and TriBeCa.  He has been written up in the American Cinematographer Magazine for his work on "Best Man Wins", which also won Best Cinematography at the Sapporo Short Fest.  Wes recently shot 2nd Unit on the Sundance Award Winning film "The Intervention."
Other awards include: Best Feature Cinematography – 2016 Las Vegas Film Festival – "To Keep The Light", Best Cinematography – 2015 Sapporo Short Fest – "Best Man Wins", Special Jury Prize – Best Ensemble Performance – 2015 Dallas International Film Festival – "Echoes of War" and Best Cinematography – 2011 Idyllwild Film Festival – "The Escape"